EOD502 Hardwire Communication System with VOX
The Olympia/Defender bomb suit communication system consists of two
integrated components: helmet communication system and
a hardwire communication system.
Helmet Communication System
This consists of a helmet mounted headset assembly with
2 ultra low profile earpieces, a low profile microphone and a short cable with a Nexus plug at the end of it.
The helmet communication system is compatible with the hardwire communication system.
Hardwire Communication System
The system consists of a robust hand operated cable reel complete with 100m of cable.
The cable can be reeled out and then plugged into the Nexus plug attached to the bomb suit helmet
via a 5m extension cable with a Nexus socket at the end of it.
The other end of the cable is plugged into a small intercom unit (6x2x10cm) which is powered
by 4 AA rechargeable batteries, with a life of more than 5 hours, for use by the EOD Commander.
The intercom unit also allows the Commander to plug in his headset. The system is designed to allow
another operator to be plugged in via a splitter cable and additional 5m extension cable (optional extra).
There is also an output lead to a 3.5mm stereo jack (or other type of plug if required) to enable
conversations to be recorded on a recorder (optional extra).
The system is full duplex and is VOX (voice operated switching) to reduce background noise.
The VOX can be turned off to provide a full duplex intercom if preferred . There are 2 separate volume controls on the intercom unit for either user.
The hardwire communication system has water resistant 7 pin plugs and has an on/off switch.

Product Categories :
EOD/Bomb Suits
Search and EOD Equipment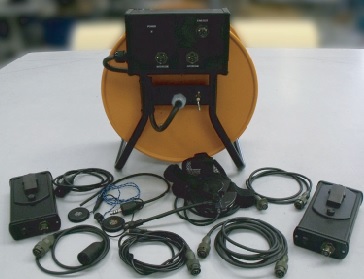 Portable x-ray. As logos Imaging's exclusive UK agent we are pleased to able to announce a complete range of new glass free DR flat panel imagers ranging from 6"x8" to 14"x17".