Bug/Listening Device Detection
TCM103 SearchLight State of the Art USTM GSM Bug Detector
Suitable for: •Security Personnel •Professional TSCM Teams •Embassies and Government Buildings •Prisons •High Security Areas •Corporate Headquarters Key Facts: • A cost effective perpetual countermeasure • Continuous monitoring of UMTS and GSM device usage • Fast, effective and easy to use with quick and detailed results • Detects and locates a range of UMTS and GSM listening devices including; 3G/UMTS and GSM bugs, 3G/UMTS and GSM mobile phones. About SearchLight The SearchLight system uses active, patented techniques to find any GSM and UMTS devices in the areas to be swept. SearchLight's database determines the threat level of a suspect device and is updated on a monthly basis to ensure the very latest threat information is available. When a device is demonstrated to be hostile it can either be activated for precise location and removal or the operator can decide to allow or deny its service at will. 'White lists' of mobile phones ensures the system does not flag the operators mobile or other legitimate mobiles as possible hostile devices. SearchLight is exceptionally easy to use and does not require the operator to have technical skills beyond the SearchLight training course. SearchLight's sweep activities and results are logged for comprehensive report generation. SearchLight can be configured to sweep networks in different countries. For further information and a datasheet please contact DSE.
Product Categories :
Bug/Listening Device Detection
Counter Surveillance / TSCM Equipment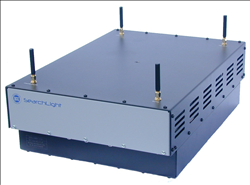 Portable x-ray. As logos Imaging's exclusive UK agent we are pleased to able to announce a complete range of new glass free DR flat panel imagers ranging from 6"x8" to 14"x17".